Green living means making some changes to your home and lifestyle, but it doesn't mean breaking the bank. An eco-friendly kitchen remodel can be done on a budget and there are plenty of ways to prevent overspending while embracing sustainability.
Read on to find out how you can complete a green kitchen remodel that's efficient, effective, and easy to achieve.
8 Top Tips For Keeping Costs Down 
The materials and appliances that you use during your remodeling processes can easily turn your space into the kitchen of your dreams. However, it's crucial to be aware that some materials are superior to others, especially when it comes to environmental preservation.
Eco-friendly materials tend to be much more durable and longer-lasting than their counterparts. They may also be better for your family's health, better for the environment, and perhaps even lighter on your bank account too. You may even be able to repurpose some fixtures in your existing kitchen to make the final product even more sustainable.
Here are our top tips for planning an eco-friendly remodel that won't break the bank.
Service, repair, or replace appliances
Kitchen appliances can be fairly resource-intensive to run, but they are significantly more resource-intensive to manufacture. You can easily reduce your carbon footprint during your remodeling process by choosing to service and repair appliances from your old kitchen instead of purchasing new ones and sending the outdated models to the dump.
Alternatively, if you choose to upgrade, it's important to consider the energy and water consumption of your new appliances. Choosing models that use resources like water and power more efficiently can turn your new kitchen even greener and keep operating expenses low.
Invest in a compost bin
Food waste is one of the biggest (and most avoidable) contributors to household carbon emissions. Thankfully, it's possible to reuse your food waste in a way that positively benefits the environment, and potentially your health too.
By investing in a compost bin, you can transform food waste and scraps into high-quality compost for your garden instead of letting it go to a landfill to emit methane as it decomposes. This rich compost can then get used to grow herbs, vegetables and fruits in your garden—or perhaps even in your kitchen, depending on your vision for your remodel.
Another excellent way to reduce food waste is to use food, home, and personal supplies manager like the CozZo app to avoid food waste. CozZo allows you to plan your meals and shopping trips in a way that minimizes waste and tracks exactly what you have in the fridge and when it's set to expire.
Rearrange cupboards to minimize waste
The most eco-friendly kitchens are designed in a way that encourages the minimization of waste. Adding some thought into the remodeling process can go a long way in ensuring that you use up perishable food items before they expire. And that you can easily take stock of whatever you have in your pantry.
Food keeps longer when it's stored correctly, so it's a great idea to install a cool, dry, and dark pantry cupboard to store staples in. This is the ideal place to keep the sweet treats we all love to indulge in too. Warmer spaces, like cupboards next to the oven, are better suited for non-food items like pots, pans and small appliances.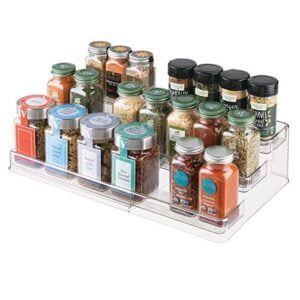 Installing multi-leveled food storage cupboards in your kitchen will ensure that you can place new groceries towards the bottom of these spaces. This places older items directly in front of you, so they'll get used before they turn. You can even install a highly visible area for odds and ends that you need to use as soon as possible, which will help to reduce food waste.
Swap out your lights
We also suggest installing energy-efficient light fixtures in your remodeled kitchen to save on energy consumption. Proper light fixtures and eco-friendly LED bulbs will save you money and reduce the amount of power your new kitchen demands.
These bulbs also last significantly longer than other varieties. This ensures that you won't need to replace them nearly as often as fluorescent or incandescent bulbs.
Change your heating and cooling habits
There are plenty of environmentally friendly heating and cooling options available for modern kitchens. Pellet stoves and geothermal heating and cooling systems use natural elements and minimal resources to keep your room at the perfect temperature.
Hybrid solar air conditioners and active solar heating systems are also great options. They rely on sustainable solar power to keep your new kitchen cool in the summer and toasty in the winter.
Shop second hand
The most sustainable kitchen appliances, utensils, and tools are the ones that already exist and are waiting to be rehomed!
Before you splurge on a brand new kitchen from top to bottom, consider sourcing some—or all—of the items you need from second-hand stores or cooperatives.
You could even join social media groups and ask around to find out if anyone is looking to sell or give away the appliances and items you are in need of. Or swap your current items for different ones.
Utilize reclaimed building materials or eco-friendly alternatives
Many of the most sustainable and eco-friendly construction materials are also the ones with the most charm and character. Reclaimed wood and steel will stand the test of time and offer a rustic, chic look for countertops and cupboard doors. While sustainably sourced timber from bamboo and cork makes excellent flooring that withstands stains and foot traffic alike.
The more reclaimed, recycled, and sustainably sourced materials you can use for your remodeling process, the more environmentally friendly and low impact your final kitchen will be. Better yet, these materials are often available for purchase at a fraction of the cost of newly manufactured options.
Consult a certified green professional
There is no better person to advise your eco-friendly remodeling efforts than a certified green professional. These experts are well-versed in which materials, appliances and fixtures are the most environmentally sound options, and which ones are the least harmful to your health. And which options will last you a lifetime and pose minimal repair and maintenance requirements.
A certified professional can also make educated suggestions in line with your budget, recommending materials and methods that you may never have considered otherwise. This will assist you in staying in line with your budget without compromising on your ecological ethics and values.
Remodel The Greener Way
If it's time to remodel your kitchen, take the trendy and sustainable route and choose eco-friendly and cost-effective materials, appliances, and fixtures for your project.
Using reclaimed and carefully sourced materials for your kitchen will help to prevent overspending, preserve the surrounding environment, and keep your family happy and healthy. Plus, it will give you a totally unique final result with plenty of character and style.