We're finally preparing to or already coming out of COVID-19 via a gradual easing of the restrictions that have turned our lives upside down. People are looking towards the future, yet also wondering what our new lives will look like in the wake of Russia's invasion into Ukraine.
Now is the best time to reflect on the way the pandemic caused us to drastically change our shopping and cooking habits. From the instant reaction to the first lockdown which saw panic buying and cleared shelves, to a shift in spending habits as we progressed through the two years of the pandemic, with less spent on travel and more spent on food – both restaurant deliveries and 'luxury' products.
Just what are the lessons that we can take forward into the 'new normal' to help us maintain a more efficient and sustainable pantry? Let's take a look…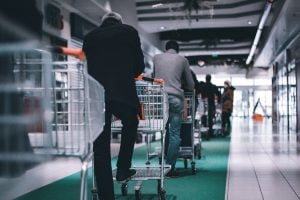 Lockdowns caused havoc in the supermarkets
As we were plunged into a highly anxious and unknown lockdown in March 2020, the first thing that people did to cope was stockpile food and household goods. Remember how people stockpiled packets of toilet roll, pasta, and flour? Supermarket shelves were bare due to people buying in bulk – even fresh food, a lot of which probably went to waste.
Even people who thought stockpiling was an extreme reaction were tempted to add some extras to their shopping baskets that they didn't really need. When you consider that the last major emergency situation the country faced was World War Two, with its rations and food shortages, you can understand where the stockpiling mentality originated from.
We learned some interesting insights into how we consume
The first wave of restrictions forced us to quickly adapt to going to the shops much less often and to meal plan for longer periods than we had done before. At CozZo, we saw our app users creating huge inventories of their home pantry in this first fraught two months of lockdown. People effectively became stock managers without realizing as they had stockpiled enough food to last for months!
The next challenge was to use the goods that were stockpiled and keep on top of pantry management! For many people, it was the first time that the entire family ate every meal at home each day. And children seemed to need constant snacks to get through home-schooling!
As we moved through 2021 and the realization that Covid was with us for another year some significant changes could be observed in people's spending habits.  As fewer people returned to regular commutes to the office, spending on work travel was kept on minimal. Oversees vacations were too risky, most of us opted for short-distance trips. So we redirected much of that spending towards restaurant deliveries, recipe boxes, and ready meals. Some enjoyed an upgrade in the weekly shopping baskets from 'generic' to 'premium' branded products. Fueled by those spending habits and an increase in inflation, we did spend a lot more on food than ever before.
With the heavy cost of living rises expected in 2022 and the return of more of our pre-COVID-19 lives we need to urgently take stock of these costs and ensure we get back in control of our weekly shopping bills.
Taking your pantry management into the 'new normal'
We've got used to planning our meals a bit more and having a wider range of ingredients at home – will this be one of the 'good' elements of the pandemic that we take forward?! It certainly seems that we've all learned a lot, and there has never been a better time to fine-tune your very own kitchen, organised around your personal preferences while saving money and reducing food waste!
Here are some of the things we've learned:
1. Plan carefully and don't buy too much
The great thing about having a stocked pantry is that most foods have a long shelf life, often lasting years. But it's still important to be aware of the dates as they will go off at some point! 
Only buy foods that you know you like and will actually eat. There is no point buying bags of red lentils if you aren't a fan of the Indian spices that they are normally cooked with!
Basics like pasta, rice, couscous and other grains form the basis for most pantries. Think about the foods you like most and stick to those.
2. Don't feel you have to be too saintly
Ingredients like black beans, chickpeas and lentils are tasty, filling and full of important nutrients. You can add them to bulk out nearly any dish or make them the star in a tasty bean chili or taco.
It's cheaper to buy dried beans and legumes but ask yourself if you're really going to spend hours cooking them from scratch. While they can be frozen once cooked, it might seem like too much effort and you could end up never using them! 
Tinned beans and legumes can be cooked up in minutes and some can be eaten raw. Likewise, tins of soup, tuna and sweetcorn are incredibly useful.
3. Make sure you have the key ingredients
It's easy to make a tasty sauce with chopped tomatoes or passata, but on busy days you just might not have time. It's useful to have some jars of good quality tomato sauce, pesto and curry to make a quick and easy meal.
Things like tahini, hoisin sauce or curry paste can add a bit of excitement to mealtimes. And having coconut milk on-hand means you can whip up your Friday night takeaway curry at home! 
There are lots of things that you might not normally keep an extra supply of, but we think they make meals extra special – some examples are tins of fruit, maple syrup, nut butter, nuts and seeds, and mustard.
Less exciting but incredibly useful is long-life milk, because who wants to miss out on their morning coffee?!
4. Spices and sweet treats
No pantry would be complete without a spice section! Again, stick to the essentials that you know you will use. While spices have a long shelf life, their flavor weakens over time.
Think about the types of cuisine you like most. Chilli flakes and cayenne pepper are great for adding spice to Moroccan and Mexican food. While cumin, coriander and garam masala will allow you to cook Indian curries with ease. Basil, oregano and thyme are essential for Italian cooking. Don't forget to add stock cubes to this section!
We're all missing visits to our coffee shops and cafes and many people learned the art of home baking. It's a lovely way to spend some time and you get an indulgent treat. We're not suggesting that you stockpile kilos of flour but having a few bags in the pantry means you can quickly whip up a birthday cake or some muffins for the weekend!
Basic baking ingredients include flour, sugar, baking powder, baking soda, cocoa powder and vanilla extract. You might want to include some sprinkles, cooking chocolate and chocolate chips too.
5. Stock your freezer
It's not strictly in the 'pantry' category, but a well-stocked freezer will provide you with essential ingredients to complement your dried goods and make well-rounded, delicious meals. It's always useful to have frozen spinach, broccoli, peas and any other veg you like. Frozen fruit can be deliciously mixed into smoothies and used for making desserts.
Freeze freshly minced garlic, ginger, and herbs to stop these ingredients from going off in the fridge.
Finally, don't forget to stash some ice cream in there for days when you fancy a quick, easy treat!
6. Let technology be a force for good
Thankfully, managing our food pantry does not have to be overwhelming today. 
The Cozzo App is here to help you keep on top of it right from your phone! Through the App, you can:
create an inventory of your fridge, freezer and pantry
match the products in stock to your favourite recipes
create and share shopping lists
get expiry dates notifications, and much more.
By using the Cozzo App, you will be able to take all the things you learned during lockdowns and maintain them when life returns to normal.
It might seem like a daunting task to organize initially, but once set-up a pantry that works for you, will save you time and money. You'll have all the key ingredients to whip up a lovely dinner when family and friends visit, and enough food to eat well if you have to stay at home for a while! 
Hopefully, the tips above have shown how with some planning around the flavors YOU like, you'll have access to some seriously appetising meals.