If you are into healthy eating, nutrition, waste-free lifestyle, or simply trying to organize your kitchen efficiently you have inevitably come across advice to start planning your meals. The problem with "old school", rigid meal planning is that it can become a key driver of food waste.
What we need is a flexible approach that actually works for us and fits into our schedules, unpredictable change of plans and our fluctuation in cooking energy and enthusiasm.
Weekly Meal Planner
CozZo 4.2 introduces a truly versatile meal planner, integrated with our recipe cookbook, food inventories and shopping lists. With the ability to plan 2 weeks ahead you will be in control of your meal planning rather than overwhelmed by it.
Select a recipe from your cookbook or enter the dish name to create a new item in CozZo's meal planner.
You can plan breakfasts, lunches or dinners for the week or for a particular day. Update your plan with direct buttons for changing the day and setting a dish as served.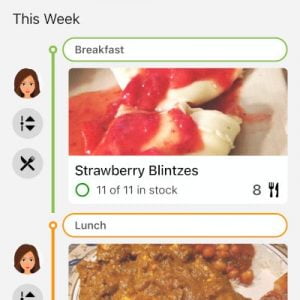 Plan and Track Leftovers
Add leftovers to your meal planner from dished that are not eaten up. CozZo will add them automatically to your inventory and track their freshness. Updates on leftover items(used up, servings) are synched between the inventory and the planner.
Recipe Collections
Arrange your recipes in bespoke collections, with 18 illustrated meal types to choose from.
Recipes not assigned to a specific collection will be listed automatically for you to "Unsorted".
Saved Shopping Lists
Reuse your shopping plans by saving them as "regular shopping", "holiday", "essentials", "event" or "recipe" lists.
The pre-installed "Essentials" list includes 60 basic products.