We are giving away one-year free passes that unlock highly requested add-on features currently available only as part of  CozZo Household Subscription Plans.
By claiming your pass you will gain access to our next-gen barcode scanner, unlimited public or private storage spaces and shopping lists, product picture uploader, premium recipe finder…
Sign-up below with your Gmail address now to make sure you won't miss the offer. We can then unlock all add-on features for you.
As soon as your free pass is ready, we will send you a confirmation email and directions on how to unlock the features. Please make sure that our email address – team@staging.cozzo.app, is whitelisted in your Gmail.
In addition, you will be invited to join our secret Power User's Facebook Group where we share tips and insights from "the kitchen".  Your ideas, suggestions and feedback for further CozZo iteration and improvement are most welcome. We'll love to hear back from you.

Unlimited Storage Spaces, Premium Choices

Arrange your various food, home, and personal supplies into different, custom-named storage spaces depending on their purpose or storage conditions.
You will get 7 premium space selections, such as a storage room, medicine, box, bathroom, etc.
You can view all items in your "At Home" screen or switch to Spaces view and customize your storage to best reflect your home habits, as well as create an unlimited number of storage spaces.
Unlimited Shopping Lists, Premium Choices

With its dual-view (Lists / All Items) all-purpose shopping lists, CozZo covers all your possible shopping scenarios. You can arrange your shopping items into different lists and give them custom names depending on your household store preferences.  Power user's club membership unlocks  7 additional predefined shopping lists such as a deli, farmer's market, pharmacy, etc.
Customize your shopping planner and create an unlimited number of lists for stores/venues, eg: Lidl, Ikea, Metro, Target, Whole Foods, etc.
Create one-time lists for special occasions or purposes, such as Christmas, Easter, picnic, birthday party, etc., for better planning and overview of what needs or has already been bought.
Personal Lists and Spaces

Turn any Spaces or Lists created by you into personal ones. The lists, the spaces, as well as all the items in them won't be visible from other household members.
Use those lists for personal items, such as cosmetics, sanitary items, medicine, etc., that you don't want or need other members to see or engage with, but also, when planning a gift or surprise party for one of your household members.
This feature is especially helpful if you are sharing your home with roommates and need a certain degree of privacy.
Premium Recipe Finder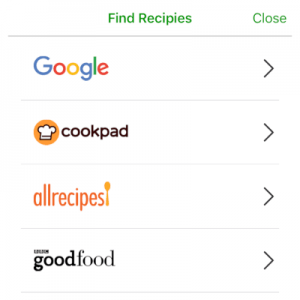 The Recipe Finder allows you to find a recipe based on the items in your inventory. Use it for items that are about to expire and need your attention.
To get a recipe the select items you want to cook and tap on the Recipe Finder icon.
You will then be able to choose a recipe from one of the 10 premium cooking sites in your preferred language.
Barcode Scanning Service
Cozzo's barcode scanner allows you to scan your grocery items quickly and accurately, regardless of the package surface and material, the position or direction of the barcode label on the item, or the angle of your camera.  Our scanning solution overcomes the tedious frustration associated with most existing phone camera barcode scanning options.
Product Name Reader and Editor
Our barcode scanning solution recognizes over 400 million product names. The scanned items will appear on your phone screen with their original package names, for e.g. "Tesco Finest Chai Bags".
With the new 'Edit' button, you will be able to customize or shorten the display name of each scanned item. If your usual repertoire of a certain product includes more than one brand, say:
Sainsbury's British Semi Skimmed Milk
Tesco British Semi Skimmed Milk
Cravendale Semi Skimmed Milk
You can change all 3 names to simply "Semi-Skimmed Milk", and for future scans, CozZo app will remember their barcodes and automatically display them as "Semi-Skimmed Milk".
If by chance an item is still missing in our database, you can quickly add it with our autocomplete dictionary. The assigned name will hence be remembered for all future references.
Please keep in mind that our pre-launch system may experience a certain percentage of unsuccessful new product scans during some periods of the day.
Package Size Recognizer
CozZo's advanced barcode scanner also detects the specific package sizes and enters them automatically as part of the product description, for e.g. "125g" of tea. This way, you will no longer need to assign weight or volume to items that are sold in boxes, cans, packs, bottles etc.  They will appear directly as part of the product card.
Product Pictures
You can take and add a picture of your favorite brand of food to the product description to eliminate future guessing. You can also take pictures of your cooked meals and add them to your 'at home" list, together with a custom meal name and portion size. The product name and picture will be stored in your product library for the next time you chose to cook this meal.
Product pictures are particularly useful if you freeze meals, in order to avoid the UFO scenario, the unidentified frozen objects in your freezer
So if you are an active CozZo user, here is a unique opportunity to get even more out of your food management app.
Join now, to claim your free pass for CozZo next-gen barcode scanning solution.
*This feature will be available with the next update beginning of November 2019.