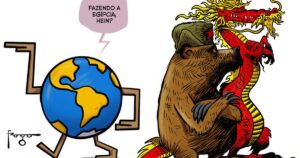 2023 was billed as the 'Last chance' for decisive action to fight climate change. This year's climate change conference(COP27) held in the Egyptian city of Sharm El-Sheikh was meant to bring revolutionary changes that would make or break our planet.
"A clear commitment to phase out all fossil fuels? Clear follow-through on the phase-down of coal? Not in this text!" summarized the UK's Alok Sharma, who was president of the previous COP26 summit in Glasgow.
While many of us may have been disappointed with the lack of firm commitments from the government and big industry to make radical changes, on the ground a different story has emerged.
Whether it's your dad committing to meat-reducing or your granny recycling or your son buying clothes from the charity shop, there is a notable change in the general consciousness about the way we are using the earth's resources.
So if you  too are thinking along those lines, why not consider the following 2023 goal:
New Year Resolution: Challenge your Food Provisioning Habits

As a society, we are creating waste in various forms and huge quantities. But one, with particular ethical, economic and environmental consequences, is food waste. Food waste is responsible for adding 4.4 billion tonnes of greenhouse gases to the planet's atmosphere, 1.4 billion less than the entire economy of the US.
The fact that we waste food can be directly linked to the fact that we're unable to use what we have bought and we continue to buy more and more.
The grim statistic for North America and the EU indicates that households on average throw away between 20-40% of their food uneaten. During the festive season, this figure can go up to 100%. Why is this the case?
We're often aspirational shoppers. We have the best intentions around having variety in our diet, having something at every meal that family members will enjoy; maybe something is on sale, so you purchase more than you'll end up eating.
A lot has been said about our consumer culture becoming the underlying foundation of our Western Civilisation over the last 2 centuries. Yet at CozZo, we believe there might be a more profound explanation to our urge to buy in excess of what we actually need, than simple consumerism. This explanation may go way back into human history, to the time of our forager ancestors.
Our ancestors lived as hunter-gatherers for over 60,000 years, depending on their food on wild animals and plants that needed to be hoarded to survive the long cold winters. It is only between 9,500 and 3,500 B.C. that the transition to agricultural settlements gradually took place.
But despite the fact that farming provided a more structured method of food provision, it did not guarantee humanity the much sought-after food security. Farming used to be severely influenced by negative conditions, such as droughts, floods, prolonged drops in temperatures, cattle, and crop epidemics and similar environmental hazards that lead to extended famine.
Our human civilization is constantly threatened by varying degrees of food insecurity. In his groundbreaking book, Waste: Uncovering the Global Food Scandal, (2009) Tristram Stuart explains that "waste is a product of food surplus, and surplus has been the foundation of human success for over 10.000 years" (p. 169). Having surplus creates continuity in the food supply, which over time has ensured population growth and technological development.
So at the start of 2023, it is just about time to challenge our food provisioning habits and our "just in case" food shopping mentality.
There are modern tools that could take a lot of the pain out of the process and give a helping hand to our kitchen management skills at the same time.  We designed CozZo kitchen management app to be such a tool by combining fridge and pantry inventory tracking, collaborative shopping lists, smart recipes, and meal planning in one handy iPhone/iPad application.
So, keep along for our quick guide to effortless food planning, less food waste, and more control over your kitchen and grocery budget.
1. Organize Your Pantry (the smarter way)
First things first…a well-organized kitchen is the key to making all meal planning easier and quicker.
If you haven't gone through your pantry in a while it is likely that you have only a vague idea of what's still in there. So before your next trip to the supermarket why not do a full inventory of what you already have?
This may sound like a bore, but with the CozZo app, it is actually quite easy and fun. "What's the fun part?" you may ask. Well, CozZo offers a "swipe to left/right" swipecard wizard with essential foods/household supplies and a fast barcode scanner.
In no time, you will end up with a comprehensive pantry inventory and a full list for your next grocery shopping and stocking. The moment you have your food supplies sorted out, it will be you controlling your pantry and not vice versa (and it's a great task to get the children involved with!).
2. Get Your Meal Plan Game On (waste-free style)
As we all tell our kids' planning is the key to succeeding at anything in life, so we all need some plan for the family meals. Despite the abundance of advice on how to do this, there is no one right way to go about it.
The best way would be the one that works for you, keeps your family well-fed, your kids happy and the food that ends up wasted to a minimum. For some of us, day-by-day planning works best. Others prefer to plan for the week ahead. The waste-free approach in all scenarios is to come up with dishes that match some or all ingredients, you already have stocked at home.
The handy built-in CozZo meal planner allows you to start the week with a basic plan – but have the flexibility to move that around as necessary and share the plan with key members of your household to encourage their participation in the shopping and cooking.
3. Shop With Intention (especially online)
Intention is the opposite of impulse. Impulse buying is what you do when you don't have a clear idea about your meal plans for the days ahead. You go to the shops (or open a website) with only a vague idea of what you have left at home and what you need, so you put in your basket the usual stuff, plus anything that sounds like a good deal …. and end up with a fridge full of stuff, yet nothing that adds up to a specific meal.
Before you hit the shops, go through your digital inventory and favorite recipes in CozZo to see what is about to expire and can be used for dinner tonight. Add the missing ingredients to your shopping list and stick to it.
Keep in mind that online shopping makes it even easier to overstock products that eventually end up in the bin.
See if you are missing any essentials, and you are ready to shop for what you actually need. CozZo shopping list will guard you against the supermarket traps that tempt us to buy surplus food you don't need right now. Remember, food waste starts with overbuying.
4. Stay on Top of the "best-whatever" Dates
Despite our best intentions, we still end up with more food than we can eat. Especially, during the school year. When the fridge is fully loaded, we quickly lose track of what we have and when we bought it.
We are particularly cautious when it comes to feeding our children and tend to be overly trusting of the expiry dates. We're even scared of letting them eat items that are a day or 2 out of date.
To help you keep track of the food expiry dates CozZo checks your home inventory several times a day. Notifications for products that expire today or in a number of days, selected by you, are sent to the home screen of your device. CozZo widget displays an overview of your entire digital kitchen, including counts of items that expire today or will expire soon.
With CozZo reminders no food will slip under the radar to be found(a week too late) at the back of the fridge.
Learn more about CozZo with this short features overview video or browse our home page.